Individual Meat Loaves
This Recipe is from theP90X2 Nutrition guide.  We are currently doing P90X2 and the recipes they recommend are fantastic!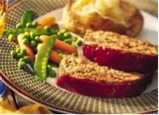 2 egg whites
1/2 cup quick-cooking oats
2 tbsp Worcestershire sauce
1/2 tsp garlic powder
2 tbsp ketchup
1/4 tsp salt
1/4 tsp black pepper
1 lb lean ground chicken or turkey breast
3 tbsp minced onion
1 small can tomato sauce
nonstick cooking spray
preheat oven to 350 degrees F
In a large bowl, beat egg whites well with whisk.
Stir in oats, Worcestershire, garlic powder, ketchup, salt, and pepper
Add ground meet and onions and mix well
Divide beef mixture into 4 equal portions, shaping each into an oval-shaped loaf.
lightly spray a foil lined, rimmed baking pan with cooking spray and place loaves on prepared pan, cover each loaf with tomato sauce,
Bake for 30 minutes or until cooked through.
Peanut Colada Roll
This was a special treat my husband came up with.  I am a peanut butter addict!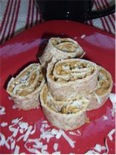 (1) 6″ whole wheat tortilla
1 tbsp natural peanut butter
1 tbsp granola
1 tbsp shredded coconut
Spread peanut butter on the tortilla
Sprinkle with the other toppings
Roll up and slice into 1/2 inch pieces.
Peanut Colada Shakeology
I loved the peanut colada roll so much that I decided to recreate it in a Shakeology

1 Scoop or packet Chocolate Shakeology
1 cup skim or almond milk
1/2 cup water (optional)
1 Tbsp peanut butter
dash of coconut extract
apx 1 cup ice
Blend and serve.  Sprinkle with a little granola for extra texture and crunch
Chocolate Shakeology Balls
A seriously decadent and healthy choice for a bedtime snack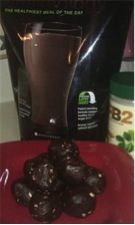 INGREDIENTS:
8 Tablespoons PB2
3 Tablespoons Natural Peanut butter
½ Cup Shakeology Protein Powder
3 Tablespoons Raw Honey
½ Cup Quick Oats
DIRECTIONS:
Mix PB2 with water until it's a paste like consistency. Mix all ingredients, including the PB2 mixture together in a mixing bowl. It make take some time to blend all of the ingredients together. If it's too sticky, sprinkle in additional protein powder so that it's a pretty dry/crumbly texture.
Next – Roll mixture into small individual balls (about a ping-pong ball size) and place on a wax sheet. Makes about 12 balls, 1 ounce each. Put in freezer until firm.
NUTRITION: (serving size 1 ball)
Calories: 80
Carbs: 10g
Fat: 2g
Protein: 7g