I'm sure after you read my Libido blog (if you haven't, you now are completely intrigued and are contemplating clicking that link — I know how you think 😉 ) you probably thought, when's Rebekah gonna announce she's pregnant? Lol – Not anytime soon! But there must be something in the air, because about 9 women on my team are expecting! There is going to be a Rock baby boom this year! I guess fitness/nutrition/sex all go together!
Now, before you jump down my throat, all of these women were actively working out before they became pregnant, so with no complications, it is perfectly safe for them to continue to workout. They know their limits and so should you. Please consult a doctor if you are pregnant and want to know if it is safe for you to start a workout program.
Why workout when you are pregnant?
Well, I'm not going to tell you to become a body builder, but staying active during your pregnancy can have many great benefits to you during the 9(+) months and even afterwards.
When you workout you boost your energy levels and help you sleep better. God knows energy is something you lack while pregnant, especially if you already have other kids!
Exercise also helps to reduce stress levels and raises levels of serotonin, which is a natural chemical released in your brain when you workout. This chemical has been linked to making you happier- which can help with depression during and after pregnancy. Baby Blues anyone??
Another great benefit of working out is that you keep your body and muscles more flexible, which in turn help prepare your body for childbirth. I know no new mom really wants to think about this, but trust me, the more flexible you are the easier it is to push that baby out!
Lastly- and I'm sure there are many reasons I'm leaving out, but if you are in shape during your pregnancy, guess what? Yep! It will help you get back into pre-baby shape much faster. Our bodies have muscle memory. Your body wants to return to the condition it was in before baby.
Be mindful of what you put into your body. You have the most precious gift inside. Eat only the best foods out there to start them on a healthy path.
Beachbody does not have any 'official' prenatal workout programs, but many of them can be safely modified and used during pregnancy. I polled some of the preggo-mommies on my team to tell you what they are doing to stay in shape while they are pregnant.
The Preggo Workout
Below, is Rebecca Nelson Mann, 33 weeks pregnant, from NC, has been doing PiYo, which is a combination of Pilates and Yoga. Since finding out she was expecting her 3rd child in March. "I can pretty much hang in there or stick with the modifier except things that require lying on my belly! Oh- and of course I can't go as deep in my push-ups!"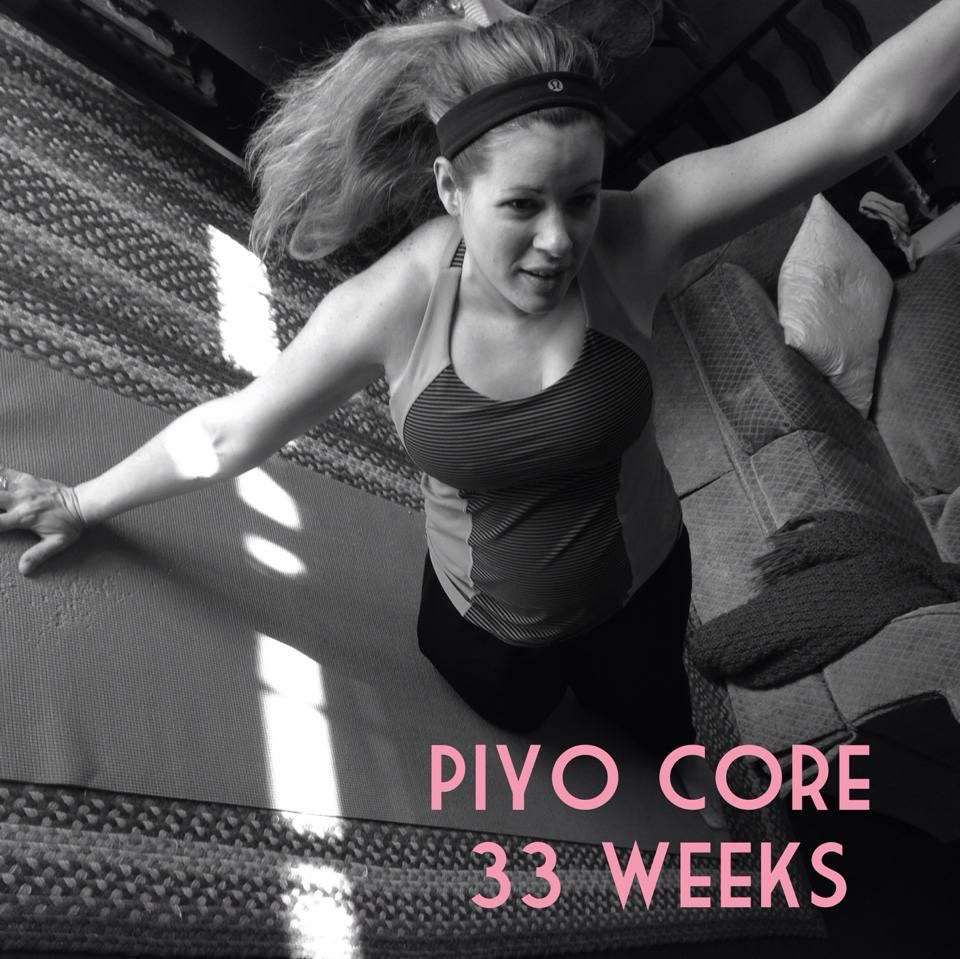 #2 is Kelley Brown, 33 weeks pregnant, from OH , had been doing PiYo and then T25 mixed with PiYo and P90. "I did Insanity- modified for a week and then the contractions started. . . Now I am doing my own hybrid of PiYo Sweat and Buns along with Sculpt from p90. It's been challenging, because I'm feeling this pregnancy big time & have to rest when I have contractions. I have also really focused in on nutrition. Drinking Shakeology has helped a lot with cravings and I have had the least bit of swelling ever! I think it's from sticking to cleaner eating."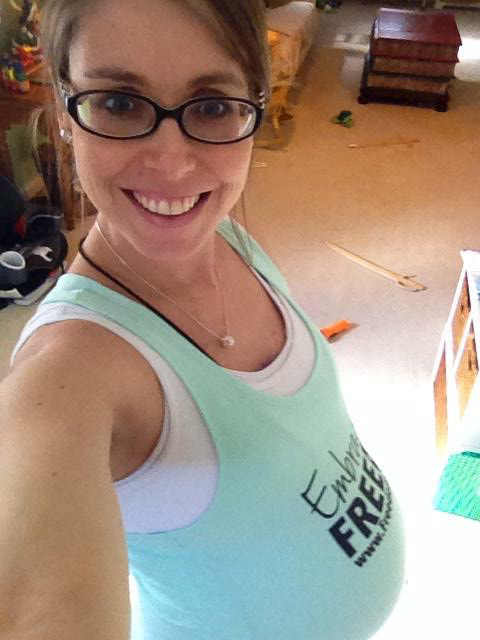 #4 is  Nikki Lendman, 16 weeks pregnant with #3, from Austria, finished up T25 Gamma in the first couple of weeks of her pregnancy before morning sickness kicked. "I'm using the 21 Day Fix meal plan (bumped up to the right caloric intake) to make sure I'm eating well for the duration of the pregnancy. I'm now doing Chalean Extreme, which has been AWESOME! Currently I am not modifying anything. As the baby bump gets bigger though, I will have to start modifying. At this rate I'm feeling good. Once the three months of Chalean Extreme have wrapped up, I plan on switching to a round of the 21 Day Fix workouts, then doing PiYo for the last couple months of pregnancy."
"The idea is to try and keep myself going as "strong" as I can right up until delivery so recovery will be even easier.smile emoticon Since so many of the programs have awesome modifiers, I'm really excited to keep going right up until the end of the pregnancy! And then rolling right along with PiYo after delivery (seriously, the best postpartum workout ever – it made all the difference for me when I got started!), and then who knows! 21 Day Fix Extreme?"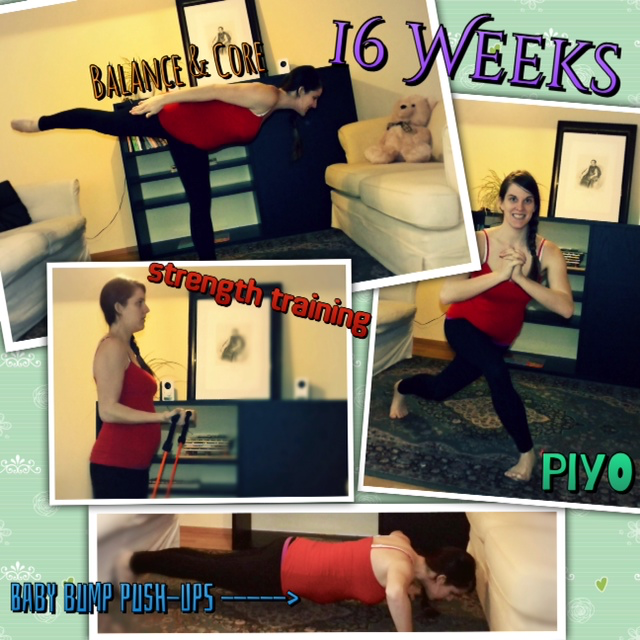 And then there is me. This is me pregnant with #4. That's my game face 😀 I wasn't awesome at working out while pregnant. I for sure played the tired, pregnant and have 3 other kids card. But I can honestly say, that when I got it done, I always felt better. It is amazing what a little movement and blood flow can do for your mood.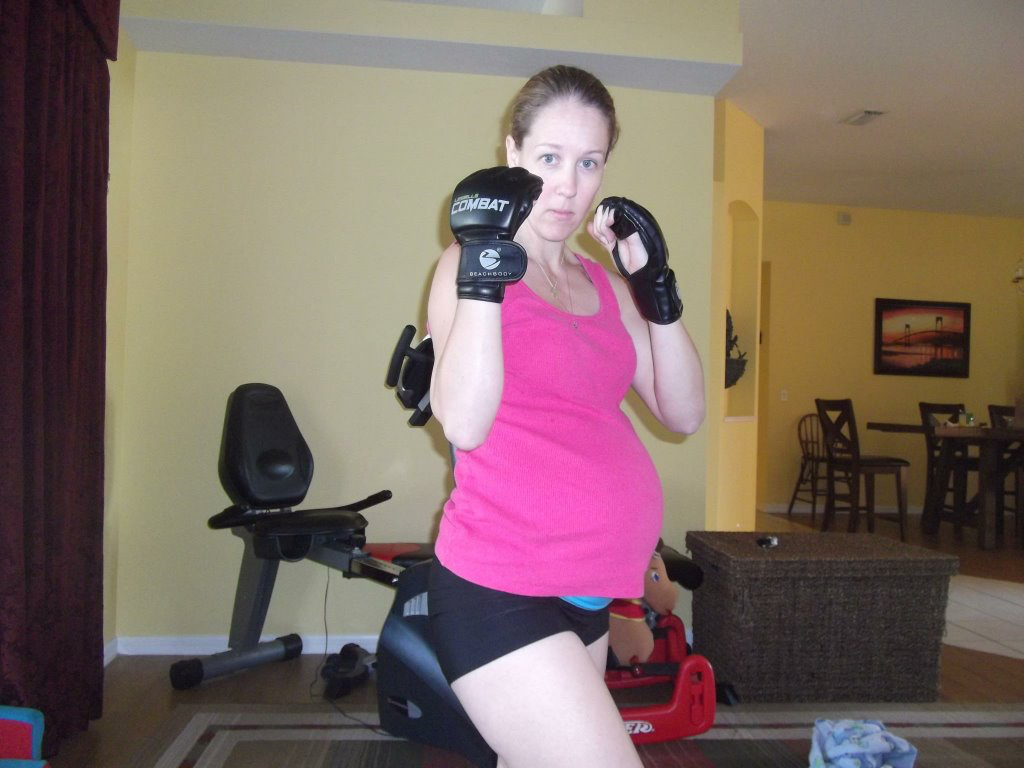 If you are pregnant, send me a pic!
I would love to see your baby bump. Flex those arms and make it a flex Friday pic. If I feature your picture on my fan page you will win a t-shirt. Happy baby making ya'll!